The following artwork license is available for print orders of the following artwork for an additional fee.
The license is available per print copy of the artwork.
For set based products (e.g. Greeting Cards) the license will apply per set. (e.g. a Greeting Card set with pack qty of 15 cards)
License Version: 1
Lessor:
Alma Vichez
Artwork:
The Rescue is never late.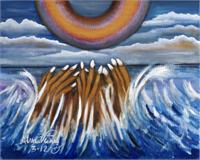 [x] Close